This dlc adds 19 hairstyles and 12 beards to your game. This is not a replacer, but a true dlc. Please read the instructions.
Gallery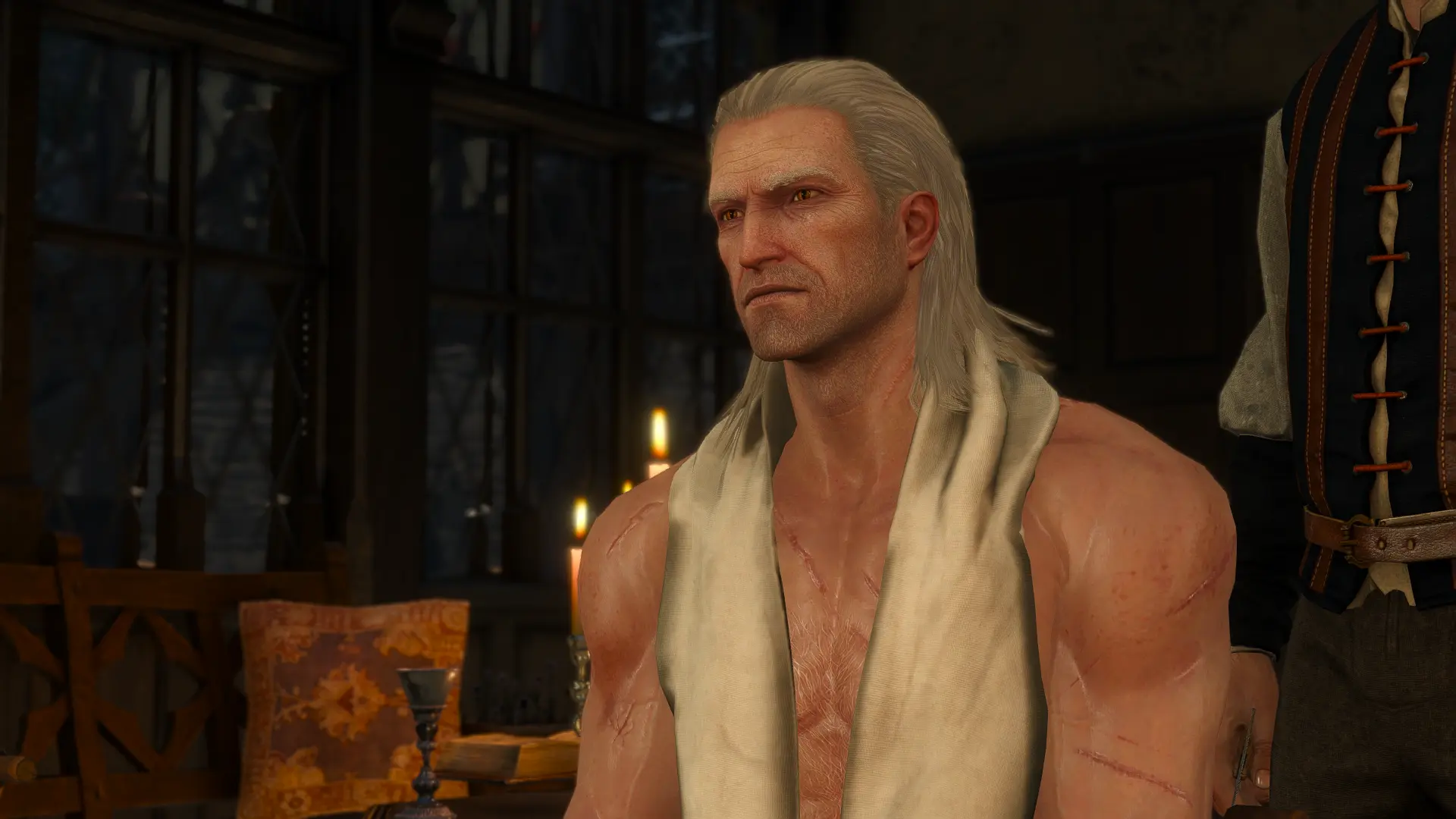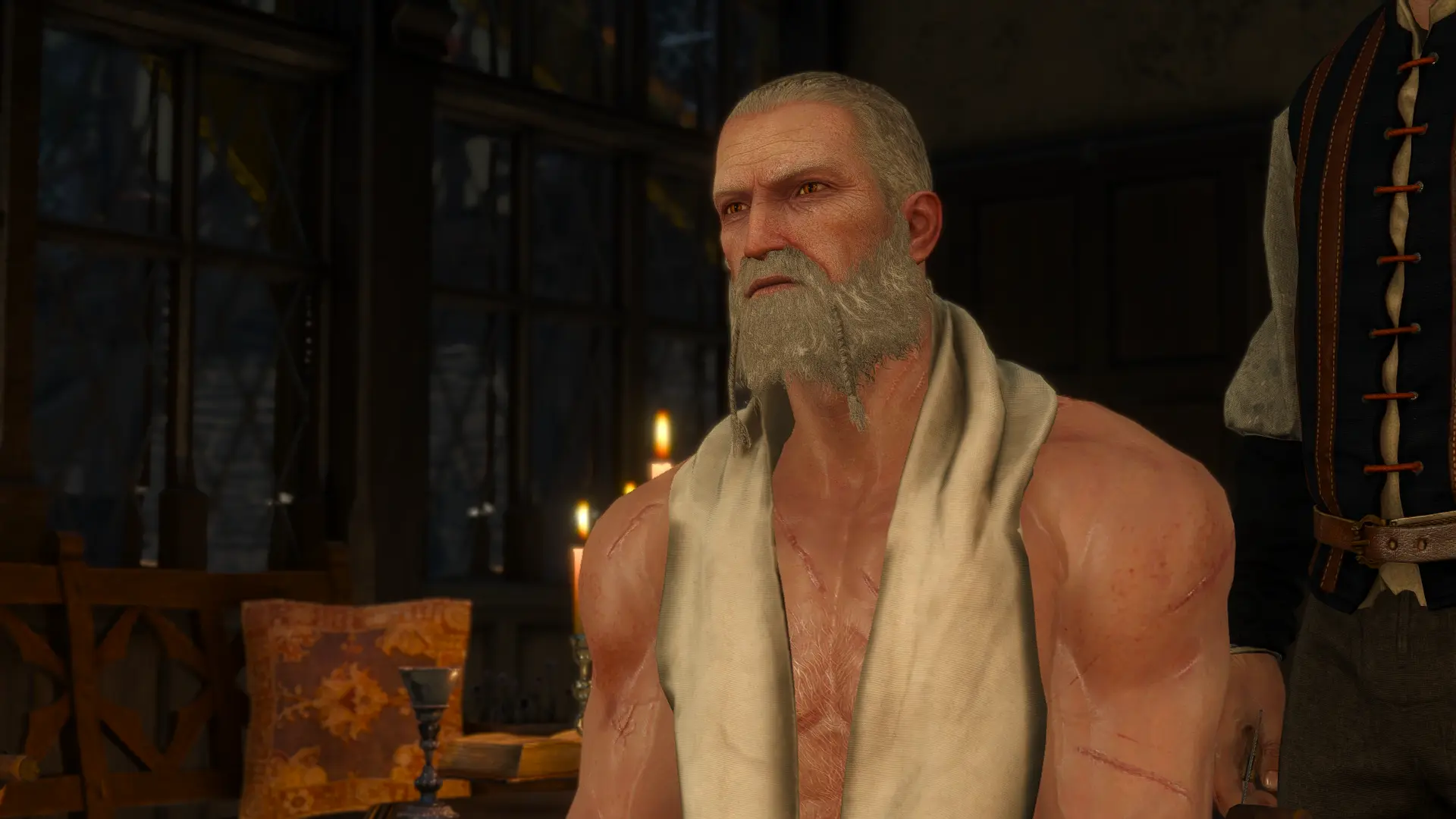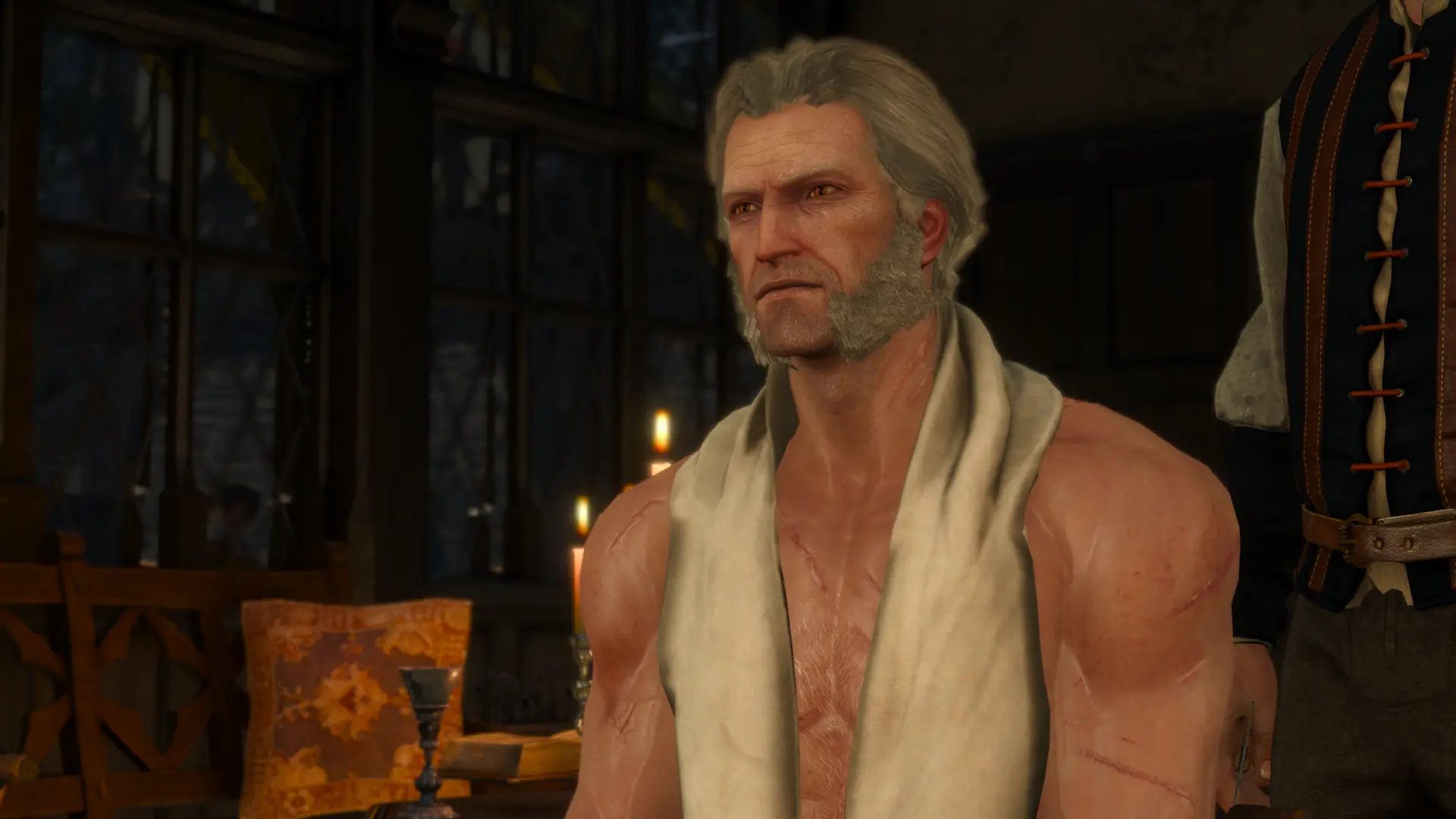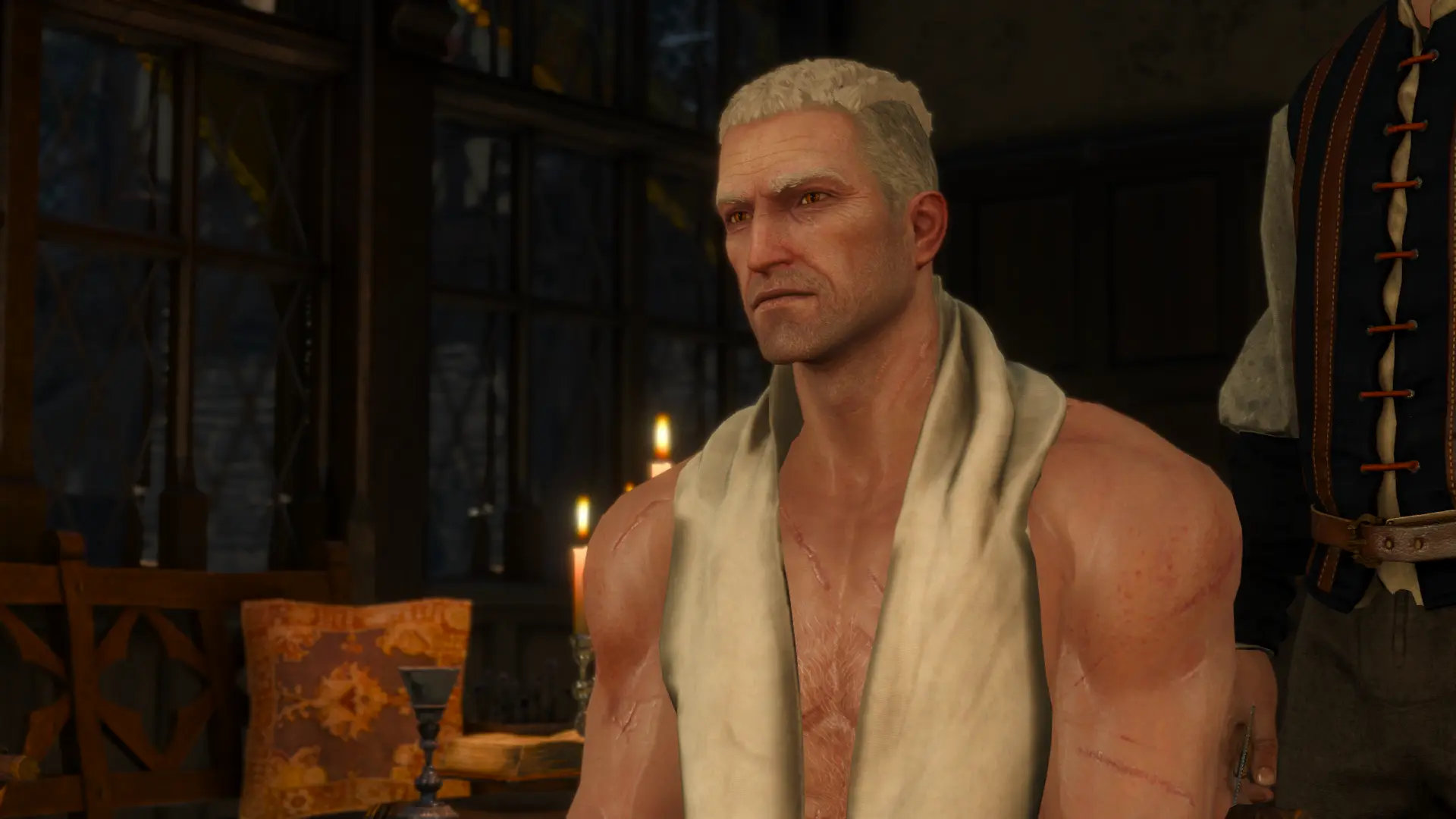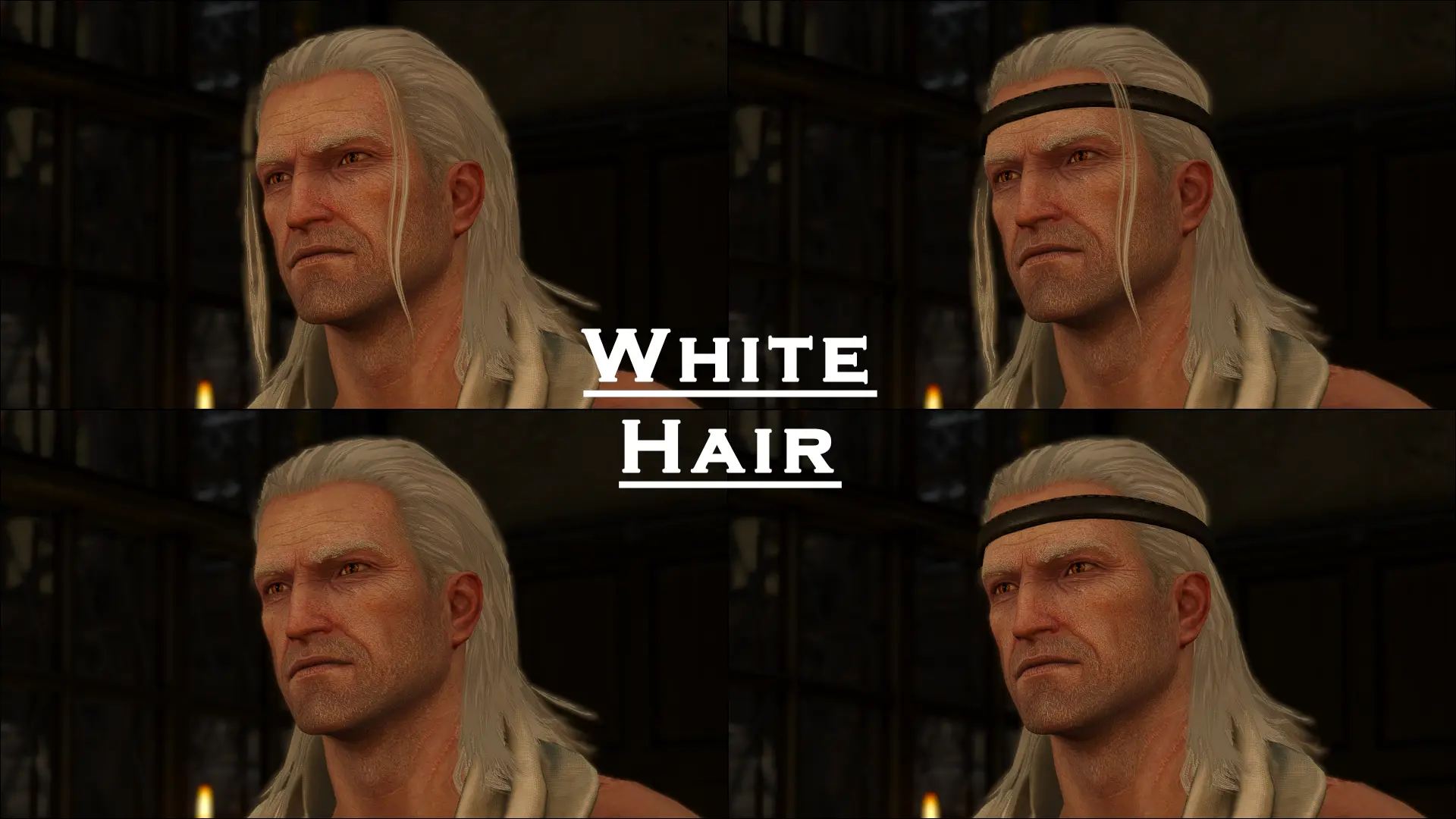 ---
Foreword:
Please read instructions, I will not be responsible if you break your game.
It is an improved version of the DLC2 while, of course, keeping the original hairstyles and beards from DLC2 intact.
And as it is still considered as DLC2 it is useless that every modder does his own DLC2 because we can only have one in each installation, and we should gather all the cool hairstyles in only one DLC2.
As this is a true DLC and not a simple replacer, you are no longer forced to disable your hairworks in order to use these hairstyles and beards. But of couse they are non-hairworks.
If there are hairstyles or beards you like and want them to be added to this mod, tell me. But firstly, I'll have to find them interesting in the first place so no simple recolors, and secondly, of course I'll ask the original author for his permission.
I made a whiter hair version without making it look bleached for people like me who want to live a true book experience with this headband ;). (Requires main file.)
Also coming with localization strings so you can do the translation if you want. French is already done. Only the ones in "dlcDLC2ImprovedStrings" matter, the other ones are vanilla game strings.
Consider endorsing the work of the authors who agreed to share their work with me, to show them the support they deserve.
---
Content of the mod:
Adds new hairstyles for Geralt to the game:
Long and loose, passing behind the ears. (not sure about this one as I don't know the hairstyling vocabulary in english lol)
Long, with a headband.
Long and loose, passing behind the ears. (alternate) (alternate = without the strands of hair on his forehead)
Long, with a headband. (alternate)
A pony tail. (By CraniumJ)
Olgierd's hairstyle. (By Roksa) (Should look better with a bald retexture of Geralt head)
Witold's hairstyle. (Didn't use Roksa's file for this one, but she still deserves the credit for the idea) (Should look better with a bald retexture of Geralt head) (Funny thing about this hairstyle : CDPR actually made one themselves, but it has no physics and is not available in vanilla game. Roksa used this one, I didn't as I wanted physics)
A pony tail. (long) (Crown by CraniumJ)
Shaved except for a pony tail. (long) (Geralt's bones are not supposed to handle such long hairstrands so it can look goofy sometimes)
A Rivian pony tail. (Don't expect a simple import from Witcher 2, this is my interpretation. Again, physics can look goofy as the game isn't supposed to handle such a pony tail.)
Shaved.
Logan's hairstyle. (By HellSpawnKD637)
Zoltan's hairstyle. (By Feregorn) (Should look better with a bald retexture of Geralt head)
Slicked back long hair. (By Feregorn)
Shaved on the sides, short on top, and a pony tail. (long)
Viking braids. (By FidoX) (Should look better with a bald retexture of Geralt head)
Long, elven style. (Witcher 1 inspired hairstyle. First, don't expect a copy of the ingame hairstyle, it looks more like the opening cinematic hairstyle because I used this as a reference. Second, this is just an interpretation, remember.)
Long, elven style, with a headband.
Olgierd's hairstyle. (alternative) (a version that matches with Geralt's hairline. I made my own as Hellspawn never answered my request. And it was literally a 5 minutes edit for the mesh part, so wasn't seeing a reason for not doing it myself).
I tried to get the headband removed during naked cutscenes etc but I could not as the game doesn't truly desequip the armor for these cutscenes, it just hides it... However, I decided to remove it when Geralt is supposed to be elegant, or equipped with a shirt or shirtless.
Of course each hairstyle is coming with its own tucked and naked versions (just the one I make myself).
You can find them at all hairdressers except the drunken one in novigrad. Blood and Wine hairdressers excluded.
Just scroll your way down in the hairstyle choice lines at your hairdresser.
Adds new beards for Geralt to the game:
Donar an Hindar beard.
Logan's beard. (By HellSpawnKD637)
Mousesack's beard. (Looks like Santa)
Folan's beard.
Bran's beard.
A mustache.
A classic goatee.
Udalryk's goatee.
Olgierd's beard.
Sideburns.
A chin curtain.
Olgierd's mustache.
New beards are made through custom heads, the same way original dlc2 beards are made. So it should be compatible with tattoo and mark from HoS but not if you enable them via console. Haven't really tested it for the moment. Tell me if this is the case.
Only available at the rich hairdresser from Novigrad for the moment. Editing the .w2scene for a new custom head is waaaay longer than for new hairstyles. So, for the moment, I'm not gonna add them to other hairdressers, it takes too much time.
Hairstyles and beards in bold have a hairworks version.
---
Instructions:
Make a backup of your original DLC2 located in your dlc folder anywhere, except in the dlc folder.
Then delete the original DLC2 from your dlc folder. Really, it must be removed, or moved from this folder, or it won't work.
Finally just copy paste the files from my mod to your dlc folder. (There are 2 folders.)
You also have to know that, like the original DLC2, this dlc is required by your savegame if you save once using it.
---
And as always, some quotes, and as always in French because I am lazy :
For the headband and the milky white hair :
"Le cavalier avait les cheveux blancs comme le lait, plaqués sur le front par un bandeau de cuir, et un manteau de laine noire retombant sur la croupe de sa jument alezane."
Andrzej Sapkowski, Quelque Chose en Plus, L'Épée de la Providence
For the fact that Yen does not like him wearing his headband when supposed to be elegant, at a banquet, at a soirée, etc... :
"- Que va-t-on faire, Yen ?
- Circuler dans la salle, se saluer, flirter, converser... Arrête de lisser ton justaucorps et de tripoter tes cheveux.
- Tu m'as interdit de mettre mon bandeau...
- Ton bandeau est prétentieux. Arrête de ronchonner, prends-moi par le bras et allons-y."
Andrzej Sapkowski, Le Temps du Mépris
Non-official english translation :
"The rider had milky white hair, tacked on to the front by a leather headband, and a black woollen coat, flowing down to the backside of his chestnut mare." 
Andrzej Sapkowski, Something More, Sword of Destiny

"-What are you going to do, Yen? -Mingle, meet and greet, maybe flirt a little... Stop flattening your doublet and fiddling with your hair. -You said not to wear the headband... -Because it's pretentious. Stop whimpering, hold me by the arms and let's go."
Andrzej Sapkowski, Time of Contempt